Join in the summer reading fun!
JUNE 5 – JULY 31
Summer reading is so important for kids of all ages. For one, it helps prevent the "summer slide" of kids losing up to 2 months of knowledge and skills learned throughout the school year. Reading skills decline during the summer months because children do not read as regularly. But, we are going to change that. We have several ways to get your kids to read during the summer!
First join our Summer Reading Program and set your goals (aim high) about how many books and/or hours you would like to read this summer. Our Summer Reading Program is open to all regardless of where you live. Our goal is to get 50 people pledged to read this summer. We want everyone in the family to join in! You can even make it a friendly competition within the family to see who will read the most. Most kids love to compete, and what a fun way to do so. We have so many great incentives for reading this summer! The first 20 people who sign up will receive a BONUS PRIZE! Everyone will earn awards and incentives for reaching their reading goals.
The Summer Reading Program is COMPLETELY FREE.  Readers are allowed to choose what they read and when.
Set up your Reading Awards account for each family member so that each person can join our reading group.
Here is how:
Step 1) Go to URL: http://www.reading-rewards.com/sign-up.html
Step 2) Click on the 'Sign me Up!' button in the Readers column and follow the signup instructions (unless they already have their own account from a previous year)
Step 3) Have your child Sign In to their account
Step 4) Click on 'Reading Circle › My Groups'
Step 5) Search for our group in the Search box: our group name is Achieve Success Tutoring Summer Readers.
Step 6) Click on our group, and enter the security code: WT7TQD
That's it! Your child will be part of our class reading group, and we will be able to follow his/her reading progress.  Readers can read whatever they choose and can set the number of minutes to read, the number of pages, or the number of books each reading session.  It's completely up to readers and their parents on how often is good.
     4. Create your Read-a-thon account if your are participating in the Read-a-thon (more details below)
5. Send us pictures or videos of your children/family reading to our email address or post your pictures on our Facebook Page.
Prizes and Incentives
We're giving away a special bonus prize for the first 20 people to sign up for the Summer Reading Program.
Each reader will receive a prize for meeting their reading goals
The reader with the most number of days read will win a prize
The readers who have read the most books/most minutes in the following age categories will get a special prize: Infant-Pre-K, Kindergarten-2nd grade, 3rd-5th, 6th-12th
For those who fund-raise, each reader will receive a free prize for simply building their page, we will give prizes for the top 2 readers who raise the most money, plus, they'll keep 15% of what they personally raise to spend on prizes from the prize center.
**Prizes may include coupons, gift certificates, activity passes, electronics, books, prize packs, and more!**
Sign up for the Summer Reading Program Now!
Participate in the Read-a-thon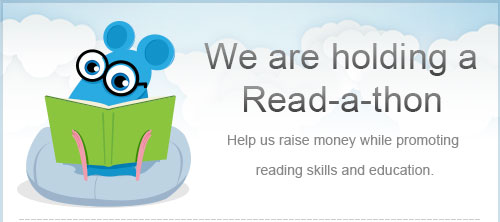 We will be starting on:


2017-06-19
What is the Read-a-thon?
The Read-a-thon is a fundraiser that raises money by  focusing on reading once a day for 2 full weeks.  Participants have the opportunity to earn incentives as they read throughout this time period.
What will the money be used for?
Achieve Success Tutoring will use the money to create a Robotics Program for youth ages 8+ in the local metro Atlanta area of Dallas, GA.  Materials and software are estimated at $3000 to use with a minimum of 12 students.  We would like for kids to participate in this program at no cost as we prepare them to compete and move ahead with 21st Century skills.
Seventy-five percent (75%) of the money raised will be given to AST to use towards the materials for the Robotics Program. Fifteen percent (15%)  will go to the students/readers to buy prizes, 7% goes to Read-a-thon to operate the program, and 3% will be used to cover the costs of processing transactions.  All of this is taken care of by the Read-a-thon Program.
How does the Read-a-thon work?
Readers will create and use tools from their personal Read-a-thon page to share with everyone and get donations.  They can share their donation page with friends and family through social media, email, texts, phone calls, etc. and sponsors are asked to make a one-time lump sum donation instead of pledging by the number of books or the amount of time spent reading.  Sponsors can encourage the readers by leaving comments on their page.
We will read everyday for 10 days beginning June 19 – June 30 (Monday-Friday).  Each reader should complete 10 sessions that will be tracked from the dashboards on their personal page.
Once the Read-a-thon is complete, readers will be able to choose their prizes from the online store (amount total will be equal to 15% of their personal donations received from sponsors).  They will receive their prizes in the mail approximately 2-3 weeks after.
How do I sign up for the Read-a-thon?
To sign up for the Read-a-thon, choose "yes" on the drop-down menu in the Summer Reading Program Registration form.  You will receive an email shortly after with your login instructions to create your personal page.
How can I become a Sponsor?
You can support us by going to www.read-a-thon.com/donate and enter the code 17019.  Simply follow the instructions.  That's it!
In return for your sponsorship we will highlight your business on our group Read-a-thon website, on every reader's dashboard, and on all donation pages.